With our sincerest apologies, we have no choice but to return to starting things off with bad news this week, as filming for The Batman has come to a halt due to a positive COVID-19 test for Robert Pattinson. You can read the details below. This is obviously concerning information, but we also have plenty to take your mind off of it, including new trailers for Harry Melling's Say Your Prayers and Ralph Fiennes's No Time to Die, all things Doctor Who: Time Lord Victorious with David Tennant, and everything that comes after After with Hero Fiennes-Tiffin. Keep your chins – and your chiseled jawlines – up! Castium Revelio!
Unfortunately, it's true: Robert Pattinson (Cedric Diggory) has tested positive for COVID-19, once again halting production that had just resumed on The Batman. The movie also stars Colin Farrell (Percival Graves, Fantastic Beasts) and Zoë Kravitz (Leta Lestrange, Fantastic Beasts), the latter of whom had just returned to the United Kingdom for filming. Pattinson and anyone who came into contact with him are now in quarantine, and our thoughts are with them.
Resuming productions was always going to be a tricky prospect for the entertainment industry, as Variety points out, but the magazine also says leading figures in the UK film production sector have stated they continue to have « absolute faith » in the measures being taken to keep casts and crews safe. With some filming on The Batman having already been completed prior to the start of the pandemic, the film is still expected to debut in 2021. We'll keep you apprised.
Next up: Our attempt at restoring the balance with some good news! How about a new trailer for No Time to Die? The second trailer for the 25th installment in the James Bond saga – featuring Ralph Fiennes (Lord Voldemort) as M – released this week, with the movie still on track to open in UK theaters on November 12 and United States theaters on November 20. Shake up a martini, punch a shark or something, and enjoy.


All Creatures Great and Small
, starring
Matthew Lewis
(Neville Longbottom) and produced by
Sir Colin Callender
(producer,
Harry Potter and the Cursed Child
), had made its debut in the UK, and
Deadline Hollywood reports
the show is a hit. It's given Channel 5 its highest ratings since February 2016 and has already been picked up for a second season. A total of 3.3 million viewers have tuned in to watch the series, which will debut on PBS in the United States in 2021. Callender expressed his pleasure to
Deadline
, effectively summing up why people just want to get the television off the news and onto a nice British guy taking care of horses and stuff.
It has given audiences a bit of an escape from pandemic and politics, escaping to the great landscapes of the Yorkshire dales. Even before COVID, I felt the audience wanted the sort of show that you could watch and revel in and not be beaten up by. There was something about 'All Creatures Great and Small' with its themes of community and family, harking bacck to a kinder, gentler world, compared to the divided, complex and rather brutal one that we're now living in.
As DC FanDome resumes September 12, Warner Bros. and the Creative Coalition are going retro with reenactments of the 1940s
Superman
radio series. The episodes will be available for listening all day and will feature the vocal talents of
Jason Isaacs
(Lucius Malfoy), among many others. For more information,
visit DCComics.com
.
Belfast
,
Sir Kenneth Branagh
's (Gilderoy Lockhart) upcoming
semi-autobiographical story of his early childhood
, has added some big names to its cast list.
The Daily Mail's Baz Bamigboye revealed this week
that Dame Judi Dench will be assuming the role of Branagh's grandmother, with
Ciarán Hinds
(Aberforth Dumbledore) playing his grandfather. Caitriona Balfe (
Outlander
) and Jamie Dornan (
Fifty Shades of Grey
), meanwhile, will portray Branagh's parents, with newcomer Jude Hill tabbed for the child based on Branagh.
Dame Emma Thompson
(Sybill Trelawney) will join her
Last Christmas
costar Emilia Clarke (
Game of Thrones
) in a live online table reading of Sir Noël Coward's play
Private Lives
,
WhatsOnStage reports
. Thompson will play the role of Amanda, and Clarke will portray Sybil. The reading is set for Sunday, September 13, and will also include a Q&A with the cast and director Jonathan Church. Tickets are £35 each and can be
purchased online
, with all proceeds benefiting the Royal Theatrical Fund to help support entertainment industry workers.
MuggleNet
let you know earlier this month
about
Harry Melling
's (Dudley Dursley) new film,
Say Your Prayers
, and the comedy now has an on-demand release date in the UK: September 28. We also have an official trailer. Happy watching!
The half-hour children's special
Master Moley by Royal Invitation
– starring
Warwick Davis
(Griphook/Filius Flitwick) as Master Moley and
Dame Julie Walters
(Molly Weasley) as Mrs Moley/The Queen – along with a new 52-part series titled
The Misadventures of Master Moley
have had their rights accquired by WarnerMedia for its cartoon network Boomerang. The special is set to begin airing in November, while the series will go into production later this year for a 2021 release.
Director Kevin Allen has wrapped filming on his new dark comedy,
La Cha Cha
, which reunites the core cast of his 1997 cult flick
Twin Town
. The latter was a springboard for the career of
Rhys Ifans
(Xenophilius Lovegood), but he and his castmates will be portraying different characters this time around. Among the new cast members are Andy Serkis's (
Lord of the Rings
) children, Ruby Ashbourne Serkis and Sonny Ashbourne Serkis. The movie will tell the tale of an Irishman who arrives at a peculiar campsite to scatter his grandfather's ashes. We'll let you know more as additional details become available!
Timothy Spall
(Peter Pettigrew) sat down last week with
Conversations
on ABC Radio, Australia, for a deep discussion on acting and life in general. In the hour-long chat, Spall takes us from his stage beginnings as the Cowardly Lion in a school production of
The Wizard of Oz
to his popular BBC series
Auf Wiedersehen, Pet
to his 1996 health scare. You can
listen to the full interview online
.
The Newham Recorder reports
that
Imelda Staunton
(Dolores Umbridge) and husband and fellow
Downton Abbey
star Jim Carter have voiced an animated appeal to aid Richard House Children's Hospice. The facility has remained open throughout the pandemic but is facing a major budget crisis. You can
donate to the appeal
online, which Staunton says is urgent. You can also view the video below.
Richard House does invaluable work for children with life limiting conditions and their families. I am proud to have been able to support this wonderful organisation for more than 15 years in my capacity as patron. The threat of COVID-19, and its impact on fundraising in particular, means that Richard House needs support now more than ever.
Several photographs by Antony Armstrong-Jones, 1st Earl of Snowdon, are up for auction at Christie's, including a 1989 portrait of
Fiona Shaw
(Petunia Dursley). So what we're saying here is: If you've ever wanted a nice portrait of Fiona Shaw for your study and have an estimated £800 to £1,200 lying around, your time has come.
You can bid online
.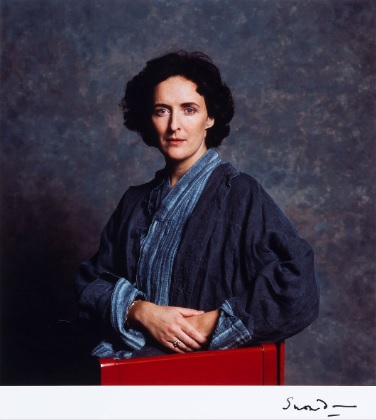 ITV has finally issued a release date for its three-part drama
Des
, starring
David Tennant
(Barty Crouch Jr.), and it's coming up quickly. The first episode will air Monday, September 14, and Tennant
told the Radio Times
he's relieved serial killer Dennis Nilsen – on whom the program is based – isn't alive to see it.
After he was arrested, Dennis Nilsen became obsessed with the legend of 'Des' – the reputation that he left behind. Whenever he slipped out of public consciousness, there was almost a sense that he wanted to get back into it. That's why I'm relieved he's not alive. I would hate for this to go out and for him to be sitting in some cell somewhere imagining we were in any way glorifying him. I'm sure he would have complained about what we said and everything we did. At the same time, he would have been rather smugly pleased he was on television. I think it's right and proper it's transmitting after he's gone.
Tennant also spoke about the state of the world in relation to the pandemic and the issues countries will have to face up to once the process of recovery begins.
The world through which Dennis Nilsen walked and wreaked his havoc [the late 1970s and early 1980s] – I think we're closer to it now than we have been for a long time. We've got to be alert to that as a society. We've got to be very aware that there are dangers and that there are people who are going to be more vulnerable than they should be in the coming months. As a society, we have to find ways of providing resources for helping people. […] This lockdown has been a great leveller. Suddenly everyone's been in the same boat because you can't escape a virus by being well off. It brings us all together. And hopefully that allows us all to have a better understanding of the equality of the individual, which in turn allows us to just think with a bit more kindness and understanding than we've been famous for as a society up to now.
It's been a busy week for Tennant, who also had a trailer for
Doctor Who: Time Lord Victorious
released and spoke on his popular podcast,
David Tennant Does a Podcast With…
, with Dame Judi Dench.
Time Lord Victorious
will include not only Tennant's Doctor but those of Christopher Eccleston and Paul McGann as well. The saga will be presented through multiple formats, including video, comics, and interactive real-world events, and you can check out a timeline of releases, a photo of Tennant's Doctor from one of the comics, and the trailer below.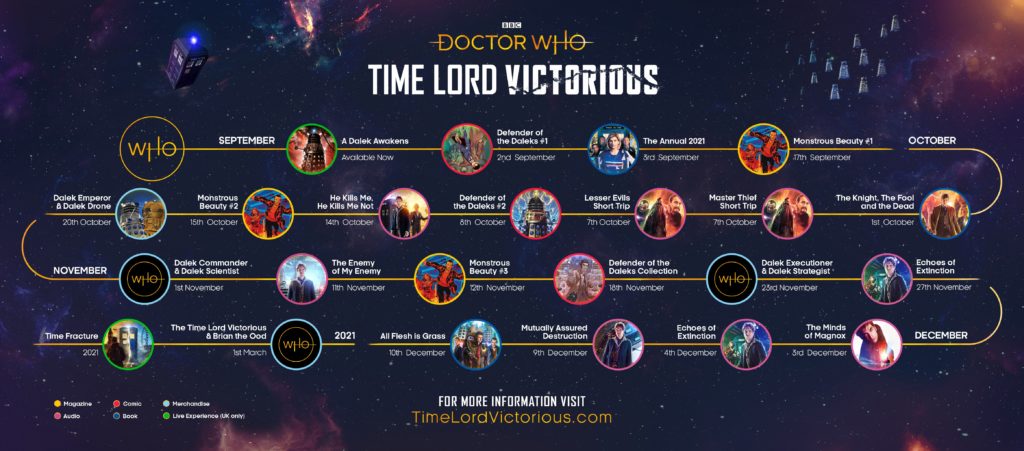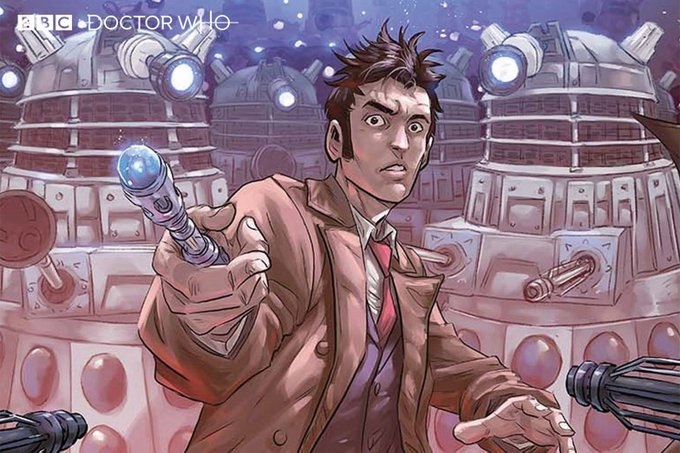 Ahead of the Venice Film Festival release of
Salvatore: Shoemaker of Dreams
, a documentary about the life of designer Salvatore Ferragamo, an accompanying podcast series has been released, which features various personalities reading a chapter from the late Ferragamo's autobiography,
Shoemaker of Dreams
. Among them is
Hero Fiennes-Tiffin
(11-year-old Tom Riddle), who has been the face of a few Ferragamo campaigns. Fiennes-Tiffin's chapter has yet to be released, but the readings are being posted on
Ferragamo's Instagram account
, so we'll be watching!
The actor also joined
After
and
After We Collided
costar Josephine Langford this week in announcing that all the frisky frolicking isn't coming to an end with the October 2 release of the sequel. Apparently already in production are
After We Fell
and
After Ever Happy
. From there, who the heck knows because it should come as little surprise at this point that there is a prequel nove titled
Before
. Let's just keep this going forever! Dibs on the titles
Before We Were Even Born
and
After We Went on Social Security
. Anyway, here's the video announcement.

— After We Collided Movie (@aftermovie) September 3, 2020

Few people – if any – are cooler than
Bill Nighy
(Rufus Scrimgeour). We tend to love his outlook on life, and that didn't change following a
recent interview with the Guardian
, during which he shared his thoughts on toxic masculinity.
The myth is that men feel less, but I don't know; I've never been a woman. How do you measure such things? I know that I have feelings. And I know the myth of women being weaker is male propaganda. Just more bullsh**. […] Men have been getting away with everything for centuries. It's completely barmy. And until we deal with sexual politics, the world will not function properly. Yet there are always forces – which are working overtime at the moment – trying to halt the civilising process. Medieval stuff you wouldn't think would even hang in the air in 2020.
If only masks helped prevent the spread of that stuff as well. Nighy's
Hope Gap
released last week in UK theaters, and he also told the
Guardian
he's been spending his time during the pandemic compiling lists of places he wants to visit. He's even considering a change of residence, saying he's always wanted to live near
« fast-moving water. »
It gives you a crash-course in perspective. And the sound is so refreshing. And if there's no one else around, in my case, you can have it roll over your body. I haven't done that for about 30 years, but it's a very pleasurable thing I remember.
Line of Duty
has resumed filming on its sixth series,
Sky News reports
, which adds
Kelly Macdonald
(Helena Ravenclaw) to the cast as DCI Joanne Davidson. The crew will be adhering to strict safety guidelines, which include – interestingly enough – the actual husbands, wives, boyfriends, and girlfriends of the actors stepping in for kissing scenes. The cameras will be angled to make the stand-ins look like the appropriate on-screen partners. It wasn't clear what will happen if the actors happen to be unattached. That may be a job for Saran Wrap. Season 6 will premiere next year on BBC One.
Streaming services have obviously been in high demand this year, and in addition to taking on those films that weren't released in theaters due to the pandemic, they've been dropping plenty of original content as well. Netflix has several new releases coming out in October, and among them is drama/mystery/romance
Rebecca
, starring Armie Hammer (
The Lone Ranger
) and Lily James (
Cinderella
) and featuring
Jeff Rawle
(Amos Diggory). Rawle plays Firth in the remake of the 1940 Alfred Hitchcock classic, and you can check out the synopsis below.
Rebecca
debuts October 21.
A young newlywed arrives at her husband's imposing family estate on a windswept English coast and finds herself battling the shadow of his first wife, Rebecca, whose legacy lives on in the house long after her death.
Netflix has released a new trailer for Season 2 of
Criminal
, with
Lee Ingleby
(Stan Shunpike) returning to the team of detectives investigating suspects played by a string of special guest stars. One of those guest stars will be Kit Harington (
Game of Thrones
), as you can see below. The new season of
Criminal
hits the streaming service on September 16.
First Action Bureau
, a new spy-fi audio drama podcast series, is preparing for its October 1 debut, and
Genevieve Gaunt
(Pansy Parkinson,
Harry Potter and the Prisoner of Azkaban
) is among the cast. You can read the official synopsis and watch the trailer below. Find the podcast on your service of choice.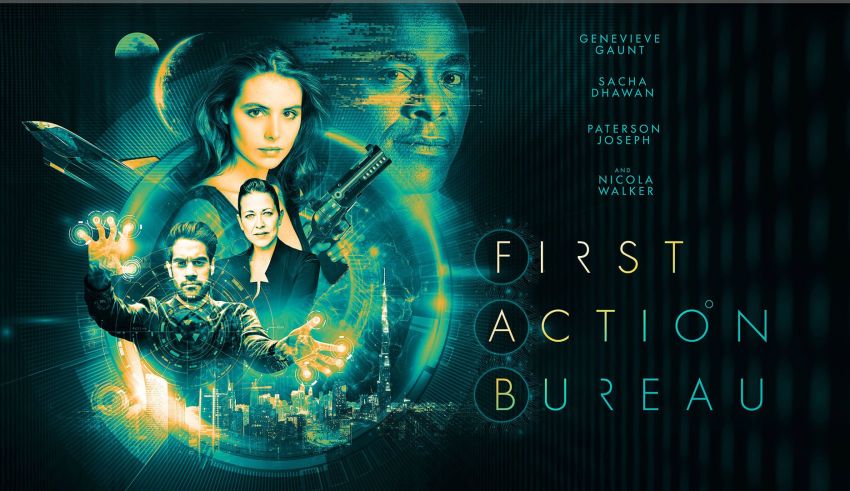 The First Action Bureau exists to protect the Earth – near-utopian by 2068 – from criminal elements before they get the chance to act. Using decades of 'big data' and globally connected quantum artificial intelligence, the Bureau is able to predict criminal activity before it occurs. Nero Jones is the best agent the Bureau has. But something strange is going on. Headaches and bizarre dreams are troubling this deadly assassin, and as her missions continue it becomes increasingly clear that all is not well… not just with her, but with the Bureau itself. But where do the lies end? And where does the truth begin?
Classic FM radio has completed its listener voting for the Classic FM Movie Music Hall of Fame, and taking top honors as the UK's favorite film music was
Schindler's List
, composed by
John Williams
(composer, first three
Harry Potter
films). Williams was also voted the nation's favorite film composer with five entries in the top 20, including
Harry Potter and the Philosopher's Stone
,
Star Wars
,
Jurassic Park
, and
E.T. the Extra Terrestrial
. Williams told Classic FM he was honored by the selection.
I'd like to express my gratitude to the listeners of Classic FM for selecting my music from 'Schindler's List' for this high honour. It was a privilege to be involved in the making of this film, and it's very gratifying to know that so many people around the world continue to embrace it after nearly 30 years.
Jim Capobianco (
Ratatouille
) is writing and directing a new stop-motion animation film about the life of Leonardo da Vinci, and
Stephen Fry
(narrator, UK
Harry Potter
audiobooks) is set to lend his voice to the great artist.
The Inventor
will see da Vinci take on the meaning of life with the help of French princess Marguerite de Nevarre (Daisy Ridley,
Star Wars: Episode VII – The Force Awakens
). You can check out a few photos below. Those who wish to help the project move forward can
visit its Kickstarter
campaign site.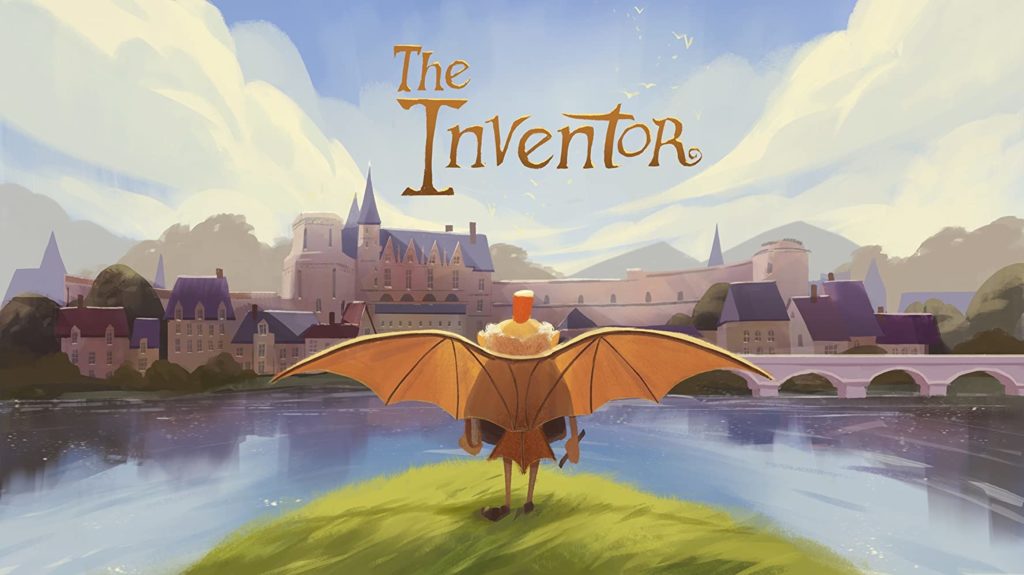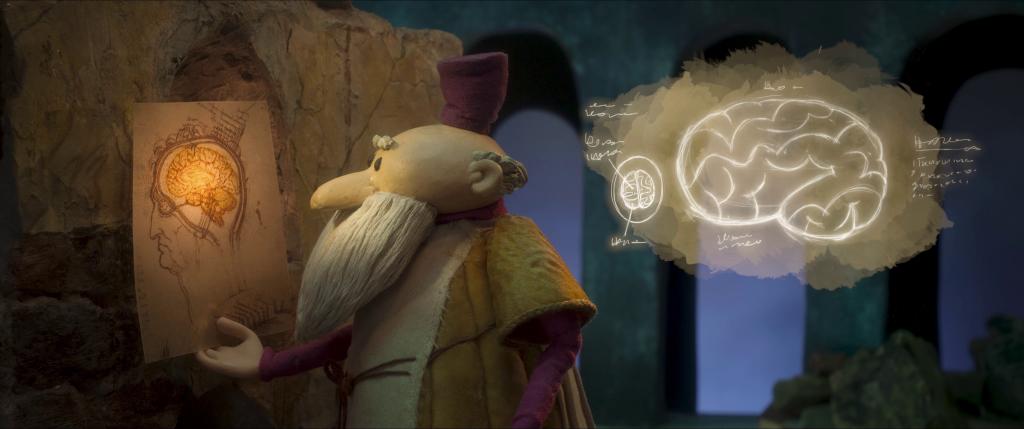 Meanwhile, a recent poll conducted by AA Driving School in the UK saw Fry top the list of celebrities with whom motorists would most enjoy taking a road trip. If we can throw Bill Nighy in the backseat, we're on board with that as well. Rounding out the top five – and please do not take any John Lennon-esque affronts to this – were Sir David Attenborough, Sir Winston Churchill, Elvis Presley, and Jesus Christ.
A Kent, England, firefighter with motor neuron disease (MND) is cycling 1,000 miles across the United Kingdom to raise awareness of the disease, and he's received significant support.
Eddie Redmayne
(Newt Scamander) – who portrayed Stephen Hawking, who also suffered from MND, in
The Theory of Everything
– sent a video to John Chart to wish him well on his journey. You can read Redmayne's message below.
I want to send a video to wish you luck as you continue on your extraordinary bike ride. The idea of cycling a couple of miles is enough to make me want to go and have a nap, but you're clearly one of the most courageous and fit and tenacious people. I take my hat off to you and how wonderful that you're raising money for this extraordinary cause. I am sending all my regards and greatest amount of respect. Good luck getting to the end.
The Argument
, starring
Dan Fogler
(Jacob Kowalski) is now available on demand, and if you'd like to add a little flair to your viewing, you can purchase a wine specifically chosen to complement the film. How does that work? We're not sure. Perhaps it tastes of angst. Regardless, the wine – a 2019 vintage from Sonoma County with notes of black cherry, coriander, and tea – can be purchased at
TheArgumentWine.com
.
ComicBook.com is reporting
that
The Walking Dead: Episode Diaries
will begin airing this week during reruns of Season 10 of
The Walking Dead
on AMC.
Samantha Morton
(Mary Lou Barebone), who portrayed Alpha, will be among those featured in video-recorded appearances, and the featurettes will begin showing Sunday, September 6.
Lionsgate has released a new trailer for action-thriller
The Doorman
, featuring
David Sakurai
(Krall) as Andre. The film stars Ruby Rose (
John Wick: Chapter 2
) and Jean Reno (
Léon: The Professional
), and you can check out a synopsis and the trailer below.
The Doorman
is set to release digitally on October 9.
A former Marine (Rose) turned doorman at a luxury New York City high-rise must outsmart and battle a group of art thieves and their ruthless leader (Reno) while struggling to protect her sister's family. As the thieves become increasingly desperate and violent, the doorman calls upon her deadly fighting skills to end the showdown.
Imogen Heap
(composer) is a well-known crusader for equity within the music industry, and she
spoke to the New Statesman recently
about the pitfalls of being a musician in the modern era.
With 70% of her current income coming from
Harry Potter and the Cursed Child
royalties, Heap has been finding ways to bolster her finances while productions are on hiatus, launching
an app
through which fans can gain access to special content for a small monthly fee or pay more to make song and cover requests. The
Statesman
calls the effort a
« reminder that musicians' work is work – that their time and talent shouldn't be given away for free, as has become the norm across the industry due to the domination of social media. »
Heap gave her thoughts on that topic and how it altered her relationship with her fans:
It feels a bit like we're back to the old days, back to this community, a small, manageable group, where we can discuss all kinds of things. I had this when I made 'Speak for Yourself', I had a message board. But social media took over and everything got so big. The one-to-many media is not a place of comfort and private discussion. I lost touch with these people. They were still there, but they were smothered by thousands of other people. I couldn't find a way to reach them. In a way, I feel like social media contributed to my moving away from music. […] In a way, I'm now retreating into the arms of my fans, into the arms of my Heapsters, and becoming more of a musician again.
Heap also touched on the fact that the cancellation of tours and festivals in 2020 has shone a spotlight on how many musicians must rely primarily on income from live performances due to receiving so little from streaming services for the music itself.
I'm so frustrated with the music industry. Simply making a record by itself doesn't pay the bills. You end up spending way more money than you get back on your return, unless you're very lucky. In a way, I'd almost given up on it. […] I do feel like it has come to the point where we are able to ask, without live [music], what are we really left with? It becomes completely unviable and, to be honest, it
is
completely unviable – even for me – to rely on just making music.
Heap says that, of the $45 billion a year the music industry generates, 50% of that doesn't make it to the musicians. She's working on a potential solution,
the Creative Passport
, which would allow users to create one profile containing data about themselves and their work that would then connect them to wide networks of artists, engineers, and producers.
We hope to relay the news soon that Pattinson is recovered and ready to get back to filming! In the meantime, let us know which projects you're most looking forward to in the comments! Stay safe out there.
Support us on Patreon